The way we used to do things is changing everyday. With the current invention, it is possible to perform your basic tasks with your smartphones or laptops.

USB microscopes are the latest invention which has proved to be useful in day to day running. They are easier to use than conventional microscopes, which make them ideal even for inexperienced personnel.
Further, USB microscopes are designed to allow high versatility. This is because they come in different styles and designs. With this, it is possible to use these microscopes in various fields while getting high precision result. Since you don't need to look directly like in the older version, they allow close examination.
Now, if you are looking for high resolution and reliable microscopes you are about to get solace. We have selected and created a list of top 10 best USB microscope in 2020 to ensure you enjoy latest digital resolution.
10. Supereyes PZ01 200X USB Digital Microscope Endoscope

If you want the best deal when it comes to UBS microscope, this one from Supereyes is among the top consideration. Designed to improve your performance, the device is suited to various works. Boasting a metal stand, it allows you to examine your specimen with ease and consistency without shaking. Equipped with high magnification lenses, they ensure that the device can magnify an object 1-200 times.
This provides the ability to perform a profound and precise analysis. Additionally, the microscope has a focal length of 1-2 cm which is perfect for sharpening your focusing. It is powered by USB 2.0 and Incorporated CMOS sensor. The 2-megapixel definition and LED light help in delivering high-quality images. The device is compatible with windows, Linux and Mac operating systems.
Pros
Strong metallic stand
Easy to snapshot
High compatibility
Cons
Comes with less helpful manual
  Check price on Amazon


9. AmScope M150C-E-A 40X-1000X LED Microscope with Digital Camera USB Imager

With this student compound microscope enhanced with USB camera Image, your analyzing work just got easier. Designed featuring full glass, this compound microscope is intended to deliver the highest resolution. The 360 degrees rotating monocular gives 5 magnification options, 40, 100, 250, 400 and 1000X. Although this is a compound microscope, it comes with a recording USB camera.
This makes imaging or video recording possible. Moreover, the ability to be compatible with various software enables user-friendly interactions. This microscope is ideal for use in homes, schools, and hobbyist. Unlike other microscopes which depend on natural light, this comes equipped with LED lights which are powered by AA battery or plug in a wall socket.
Pros
High magnification power
Real glass lenses
Excellent LED illumination
Cons
Camera not usable with 10x/25x eyepiece
  Check price on Amazon


8. Andonstar A1 Digital USB Microscope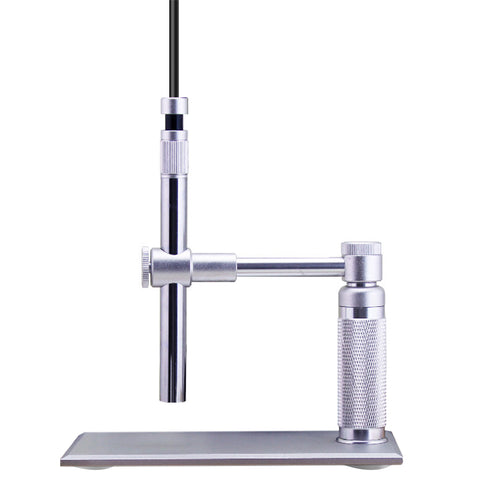 Andonstar A1 Digital USB Microscope is way to go if you want to get exceptional precision in different fields. This Andonstar USB microscope is a great piece of equipment. It offers resolution just like in conventional microscopes hence ideal for home, health facilities and other places. With up 500X resolutions, this device gives clear and precise magnifications. Now, unlike compound microscopes which require a lot of work to focus and observe, this is eliminated with Andonstar.
The device comes with USB enabled camera which gives you the ability to connect it to your computer. As a result, recording videos and images is easy while viewing your results in the monitor. The LED bulbs equipped are great in ensuring proper illumination and are dimmable to provide clear images. For durability, the microscope enjoys aluminum construction which also lightweight. Above all, this microscope features CMOS sensor and 2 MP resolution for satisfying image quality.
Pros
Conventional microscope like resolution
HD pictures and videos output
Dimmable LED light
Cons
Not compatible with Mac Os
  Check price 

7. OMAX 40X-2500X Full Size Trinocular LED Microscope with 10MP USB Camera

Are you still struggling with your old microscope, it is time to get a better option replacement. The Omax full-size trinocular microscope with USB camera is an excellent choice. Designed for multipurpose use, this device is ideal for application to all areas. This is because it comes with high magnification 40X to 2500X which is ideal for most common examination tasks.
Boasting trinocular design, it offers manual observation and also ideal for HD imaging through a 10-megapixel digital system. Consequently, it is possible to capture still images as well as high-quality videos. To facilitate clear viewing, the microscope is fitted with LED lights which are easy to replace. The imaging system is compatible with Windows, Mac, and Linux operating systems with installing drivers.
Pros
Exceptional 40X-2500X resolution
Heavy duty HD imaging system
Multi-software compatibility
Easy to replace LED lights
Cons
A bit complex when using camera
  Check price on Amazon


6. AmScope 40X-1000X LED Microscope with 5MP USB Camera
For effectiveness in science studying or just for hobby, microscope is a great tool. With a modern one, equipped with USB compatibility, you can analyze your specimens. Now, the AmScope LED microscope with 5 MP USB camera is a perfect choice for students, healthy workers among others. With this camera, it is possible to achieve high definition imaging for precise and detailed results. Additionally, for the convenience of use, this microscope features monocular head which is 360 degrees rotating.
Moreover, wide field optics are excellent in offering various high resolutions to view as many details as possible. The body is sturdily constructed, hence improved durability. On the other hand, LED lights which are powered by plugging or battery power gives ample illumination. The USB 2.0 connectivity ensures high data transfer rate and multi-software compatibility.
Pros
High-quality real glass lens
High definition 5 MP camera
Ideal for broad range of application
Cons
monocular eyepiece not comfortable with some users
Doesn't come with digital measurement scope
  Check price on Amazon


5. MixMart Digital USB Microscope 2.0 MP Camera, HD imaging

Whether you are a student or technician, you will find this MixMart Digital USB Microscope ideal for all your work. Designed with HD capabilities, this microscope is unmatchable with rivals. It boasts CMOS sensor and 2.0 MP camera which offers crystal clear images for easier examination. To provide enough illumination, it possesses 8 LED bulbs which are adjustable to regulate amount of light for clear images.
Besides camera capturing images, it also records AVI videos. Structurally, MixMart Digital USB Microscope has a metallic frame which allows it to boast extended durability. No hassles when it comes to compatibility as it is plug and use when using windows, Mac or Linux powered computer.
Pros
Durable metallic construction
Ideal for recording high-quality pictures
Dimmable LED light
Cons
  Check price on Amazon

4. KLAREN Digital Microscope, 1000X Magnification

Having a portable microscope allows versatility and ability to work from anywhere. If you are looking for such device, Klaren digital microscope is a perfect pick. Designed by experts, it has powerful lenses and with magnification of up to 1000 times. Besides high-quality lenses, this device comes with 8 LED bulbs which surround the lens for proper lighting.
Also, with sturdy stand, this microscope is ideal as it eliminates vibrations and movements when operating. The versatile design ensures that microscope is usable in health, industries, printing and jewelry inspections. To deliver proper examination, this device is fitted with a 5-megapixel camera with 30 f/s under 600 Lumens brightness. It has USB 2.0 and software is compatible with Windows operated computers.
Pros
Lightweight hence highly portable
Multiple applications
Less power consuming LED bulbs
Cons
Only compatible with windows computers
  Check price on Amazon
3. Aomekie Handheld USB Digital Microscope 1-200X Zoom 
You'd be blown away by how fine details almost pop at you with this USB microscope. There is no better way to enjoy larger than life images than with the 1600×1200 resolution and 30fps high definition display. The 2.0 MP CMOS sensor is built for image quality making your images much more fun and entertaining to look at with up to 200× of magnification.
Around the camera lens, you will find 8 LED lights, these can be adjusted using a sliding regulator to support dim or brighten light conditions ensuring the same unmatched quality. A USB 1.1/ USB 2.0 easily plugs into your windows or Mac laptop/PC if it has the easy to use software that comes free in a CD. The adjustable metal base stand that comes along with this piece allows you to carefully inspect what you intend to form any height level you prefer. It is suitable for professional and hobby microscopy, technical analysis, and exploration. Don't miss out on the fun, get your piece today.
Pros
Clear magnification
Quality picture and video
Sturdy stand
Cons
Icon title are in Chiness
  Check price on Amazon
2. OMAX 40X-2000X Digital Lab LED USB Microscope, 1.3MP Camera

One of the best USB microscopes you can get on the market is this OMAX OMAX MD82ES10 biological microscope. Designed for use in variety of professions, has a fantastic resolution and magnification. Boasting a superior software and 1.3 megapixels camera, no need to struggle to view through the eyepieces. The microscope comes enjoying 8 magnifications 40X-80X-100X-200X-400X-800X-1000X-2000X which are greater than most of the available microscope.
Besides having USB connectivity, the device comes with binocular eyepieces which are great when focusing. For ease of adjustment and safety of objective lenses, the microscope features stage upward movement lock. Additionally, the stage is stain resistant unlike other brands, which ensure that ease of cleaning hence clean images. The software is compatible with windows and has variable LED light.
Pros
User-friendly operation
Non-staining stage and variable LED lights
Great 8 variable magnifications
Cons
A bit large and not easy to carry
  Check price on Amazon

1. Soled USB Digital Microscope Mini Microscope

There is no more struggling when it comes to searching a portable USB microscopes. Topping our list is Soled USB digital microscope which comes with dedicated performance and design. Despite its compact size, the microscope boasts extra high performance and different magnification to ensure you get the best resolution ever. As a result, this device boasts broad application range from education to industrial.
To make your imaging easy and convenient, the device has 2.1 MP USB camera with 8 LED light on the lens for excellent magnification. Unlike other devices which are for use with computers, this one is compatible with smartphones hence an ideal device for use anywhere. With 18 months warranty, this microscope guarantees you quality and high performance.
Pros
Extremely lightweight: 10.4 ounces
Ideal for use with smartphones and computers
High definition video and still images
Cons
  Check price on Amazon


Without doubts, USB microscopes are the best thing to buy for education, health operations, and other purposes. They are constructed to ensure that you get quality work with less hassle. With compatibility with computers and smartphones, they are the surest ways to deliver consistent and clear results.