To work your digital microscope with computer and external HDMI monitor
First of all, make sure your microscope can work with external devices. Among all Andonstar products, models that work with both PC and an HDMI monitor are ADSM201, ADSM301, ADSM302, AD409, AD246S-M, AD249S-M, AD246S-P, AD249S-P.
To work your digital microscope with a computer
We collected feedback from many end users, the most common issue they met is their computer couldn't detect the device change after plugging the microscope to the PC.
If you've met the same issue, please check if the connections are as follow: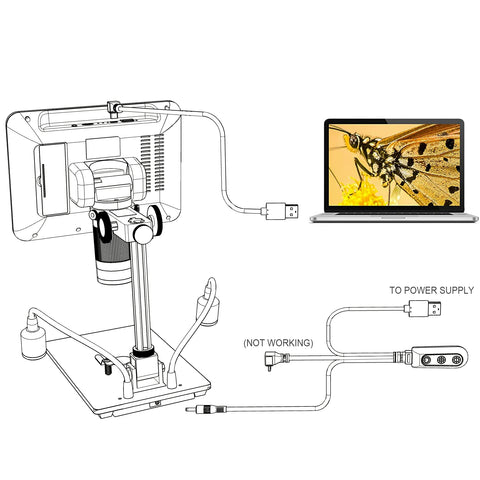 Please be aware that:
the dimmer cable is only to power on the lights now;
You should connect the microscope monitor to the computer via the USB cable in the package.
And we recommend using a desktop instead of a laptop due to many laptops' USB ports can not guarantee a strong and stable electric current.
To work your digital microscope with an external HDMI monitor
This is an easier one compared to working with computers. But there are users who couldn't get a stable image due to the unstable power supply. So, we recommend you connect every part as follows:
Dimmer cable to power on lights on the base.
USB cable to power the microscope monitor.
HDMI cable to provide image data transfer to HDMI monitor.