Andonstar AD409 digital microscope is the latest HDMI WIFI digital microscope which is launched by the end of the year 2020. Equipped with 4 mega pixels HD sensor and 2 adjustable build-in LED lights with stand, AD409 features 10.1-inch large LCD screen which can project clear images of the object and provide a better view of the parts.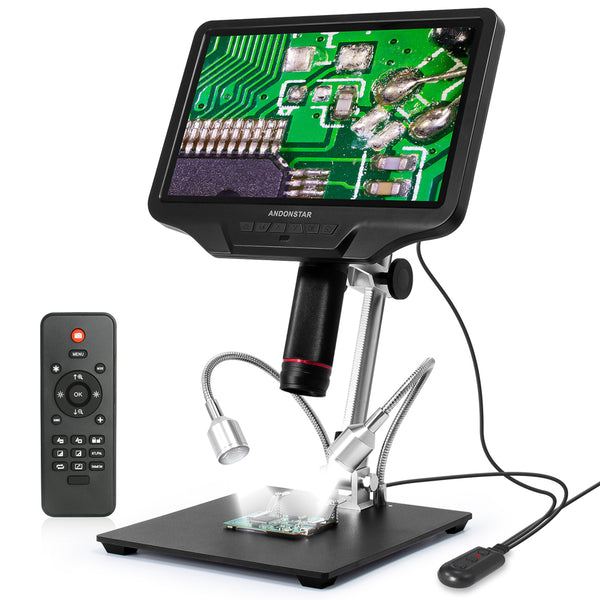 High-quality Images & Magnification:
With high-quality sensor, the max 4032x3024 (12M 4032*3024) photo resolution can provide clear and high quality images. Moreover, the magnification of AD409 can reach up to 300X and allows you to view the smallest solder jonts that you are working on.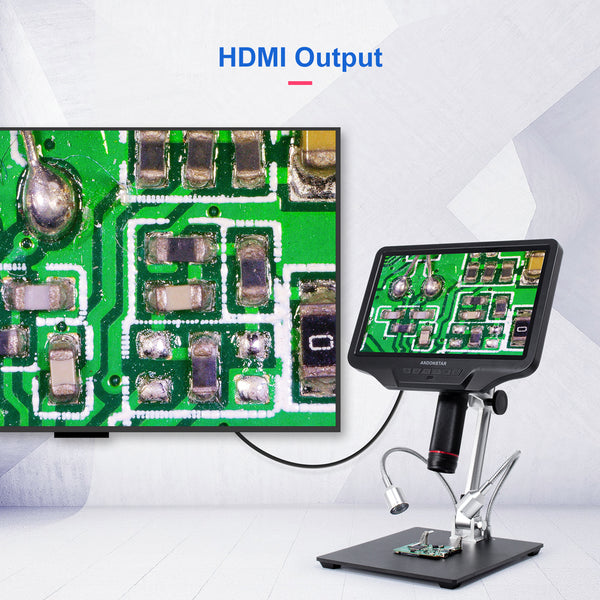 PC/Mobile Connection & WIFI Connection:
The AD409 supports PC connection, but only for Windows 7/8/10. The PC software with measurement is also supported. Last but not least, the AD409 digital microscope is able to be connected with mobile phone and tablet by WiFi connection to realize its measurement function. Note: the WIFI function is donated and presented as an user experience function.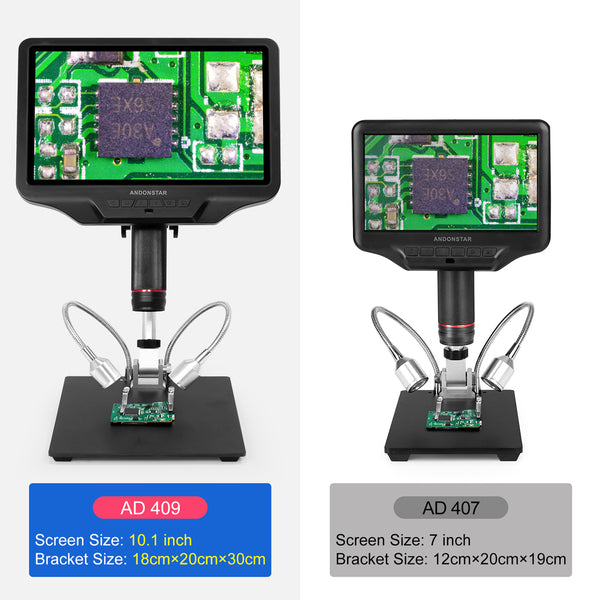 Wide Application Value:
Application:
■ Phone repair
■ Plants&insects
■ Arts&crafts/miniature
■ Printings/textile
■ Assembling line
■ Antique authentication
■ Jewellery appraisal
■ Coin collection
Specifications:
Image sensor

4 Mega Pixels HD Sensor

Video output

UHD2880x2160 24FPS;

FHD1920x1080 60FPS/30FPS;  

HD1280x720 120FPS;

Video format 

MP4;real time play via HDMI w/o recording;

Magnification

Up to 300 times (HDMI monitor 27 inch)

Photo resolution

Max 4032x3024 (12M 4032*3024) 

Photo format

JPG

Focus range

Minimum 5cm

Frame rate

Max 120FPS

Video-output

HDMI

Storage

Microscope-SD card,Up to 32G

Pc support

Yes,for Windows 7/8/10,PC software with

Measurement

Mobile phone, tablet terminal support

Support WiFi connection and measurement

Power source

5V DC 

Light source

2 LED with the stand

Screen size 

10.1 inch

Stand size

18cm*20cm*30cm

Certification

CE/FCC/ROHS/HDMI

Term

   /

Package contents

Microscope×1    Metal stand×1

UV filter (already assembled in the lens)×1

Instructions×1    IR remote×1   

Switch cable×1   Power adapter×1

HDMI cable ×1

Packaging data

32*22*20cm/2.2kg

Warranty

1 year