Adonstar AD206 VS Celestron 5MP Digital Microscope: which is the best?
Selecting a digital microscope may be a little difficult. Many people will hesitate in choosing which one to buy. One of my friends recommand me to buy two type: Adonstar AD206 VS Celestron 5MP Digital Microscope. I have studied on them and bought them to have a test.
Display
Andonstar AD206 Digital Microscope has a display of 7 inches. The huge screen helps me get a clear view of the images and videos. Moreover, its display is adjustable. By adjusting the display, I can keep a comfortable pose while working and there is no need for me to move the object.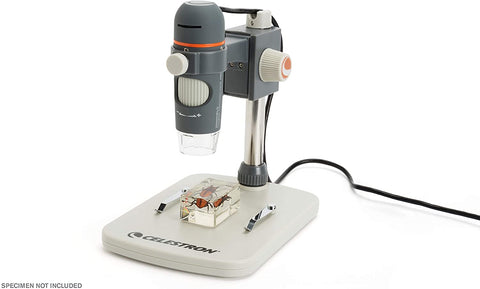 When it comes to Celestron 5MP Digital Microscope has a 3.5" TFT LCD screen, which allows me to enjoy up to 2 hours' observing and capturing images in the field.
Stand
When it comes to the stand, they both have adjustable stand. The stand of Andonstar AD206 is metal and thus it's very stable and durable. Also, user can adjust it to keep a comfortable pose while working without moving the object and get a 3D visual of the components. The Celestron's stand is also very convient to adjust and it can offer large object distance. This microscope comes with an adjustable high stand for hands-free operation when viewing large objects. 
Magnification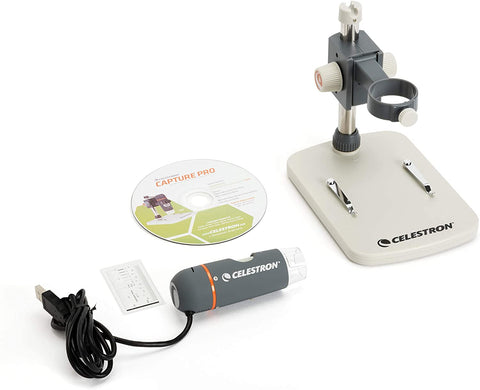 With up to 200X magnification, Andonstar AD206 is able to magnify small obejct, component and parts, giving you high-resolution and high-definition photo and video. The easy-to-use Celestron 5MP digital microscopeis can also magnify  stamps, coins, and other small objects up to 200 times. The difference between the two lies on the visual effect they produce. Andonstar AD206 can bring about 3D visual effect with the help of adjustable screen and stand.
Image sensor:

Image sensor is very important to an audiovisual product. So it's the same with the digital mciroscope. Andonstar AD206 owns 2 Mega Pixels HD Sensor while Celestron uses 5MP sensor which will produce images of 2592 x 1944 pixel array. But Andonstar AD206 can reach a photo resolution of 12M, namely 4032x3024 pixel array.

It seems that this two digital microscope come out even. It's difficult to say which one is the best and which has most disadvantages. Each has its own pros and cons. Digital microscope enthusiasts should make a decision according to their own requirement.